Our Mission
Maple Tree Montessori Academy is dedicated to providing a nurturing, caring and stimulating educational opportunity for children regardless of race, economics, and relative learning abilities. Our goal is to create a peaceful, loving Montessori environment of the highest quality in which children can flourish.
About Maple Tree Montessori Academy
Founded in 2003 by Patricia Sue Cherry, Maple Tree Montessori Academy currently enrolls students from 12 months through the 8th grade in our authentic Montessori Toddler, Preschool, Kindergarten Elementary programs. Our school is registered with the Michigan Department of Education as a Private School. We are also affiliated with The American Montessori Society, The Michigan Montessori Society, and The Livingston County 4c Council. The teachers at our school are affiliated with The American Montessori Society, The North American Montessori Teacher's Association, and the Association Montessori Internationale.

Our school is bright and airy with
9000 sqft
and
16 foot ceilings
, has
large classrooms
with
low student/teacher ratios
, and an
experienced and loving staff
who are all
Montessori trained and certified
for their position! Learn more on our
virtual tour here
!
Maple Tree Montessori Academy is located on Old U.S. Highway 23, just North of Hilton Road in Brighton Michigan. We are near Brighton and Hartland, and because we are located near I 96 and U.S. 23, we are convenient to all of Livingston County.
Individualized Educational Programs for Toddlers through 8th Grade!
Our preschool programs offer a full 3 hour session, a.m. or p.m., as recommended by Dr. Maria Montessori. We also offer optional full day Kindergarten and Summer Camp. Our before and after class daycare program is also a Montessori classroom and provides our preschool and elementary students with a consistent, caring and loving environment, a true Montessori Children's House.
We are pleased to continue our Montessori Curriculum into the Elementary grades. We currently offer Lower Elementary and Upper Elementary classes and will provide an Adolescent Program in the near future as the need arises. We are dedicated to the Montessori Philosophy of education and believe very strongly that children flourish in a peaceful, loving environment that is prepared to encourage and stimulate their growth holistically.
We believe, as Maria Montessori did, that the hope of the future lies in the child and that peace comes not from war but from education.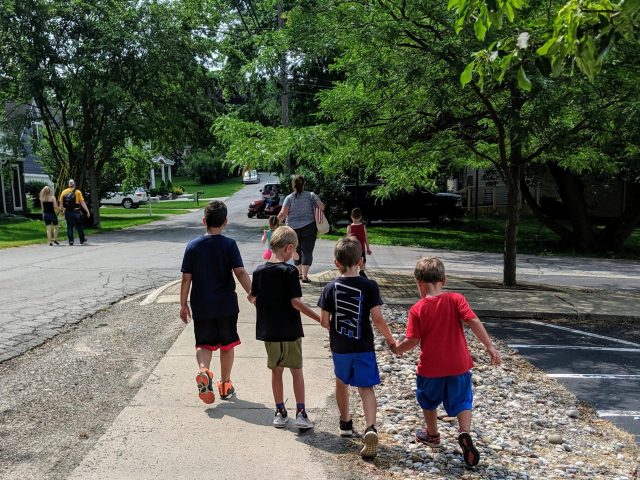 Heartwarming Parent Feedback
I just wanted to share this picture with you.
This is a picture of Joseph and Sam and Ari and Armen all holding hands walking back from the 4th of July parade.
I'm often in awe of our world, how hard and at times cruel it can be, and also how equally wonderful and beautiful too. I firmly believe the reason this moment existed to capture it in a picture is because of our Montessori family and the environment the staff at Maple Tree created and their gentleness and kindness.
Thank you for loving our boys this much,
Rachel Henderson
View More Parent Testimonials
Please explore our website to learn more about Maria Montessori, the Montessori Method, and Maple Tree Montessori Academy. Detailed information on our preschool, elementary and before and after care programs as well as enrollment information can be found here. Thank you for your interest in our school.